The so-called gig economy is expanding — that's clear.
Some estimates
say it's up to 34% of the workforce in the US. And as a freelancer, this type of work has clear benefits. It allows you greater flexibility and more control over your own time and resources. On the flip-side, it can require a lot more responsibility. You — and only you — are in charge of your next paycheck.
But this isn't only beneficial for freelancers, since it brings advantages to businesses too. For one, hiring freelancers allow companies to access talent quickly. Especially talent that might not be available locally. Secondly, freelancers bring greater flexibility to businesses as well. It allows them to quickly hire talent for new projects or to temporarily staff up when needed.
When it comes to outsourcing staff, consulting firm Deloitte conducted a
2017 study on the subject
, and found that 87% of IT outsourcers planned to maintain or to increase their level of outsourcing.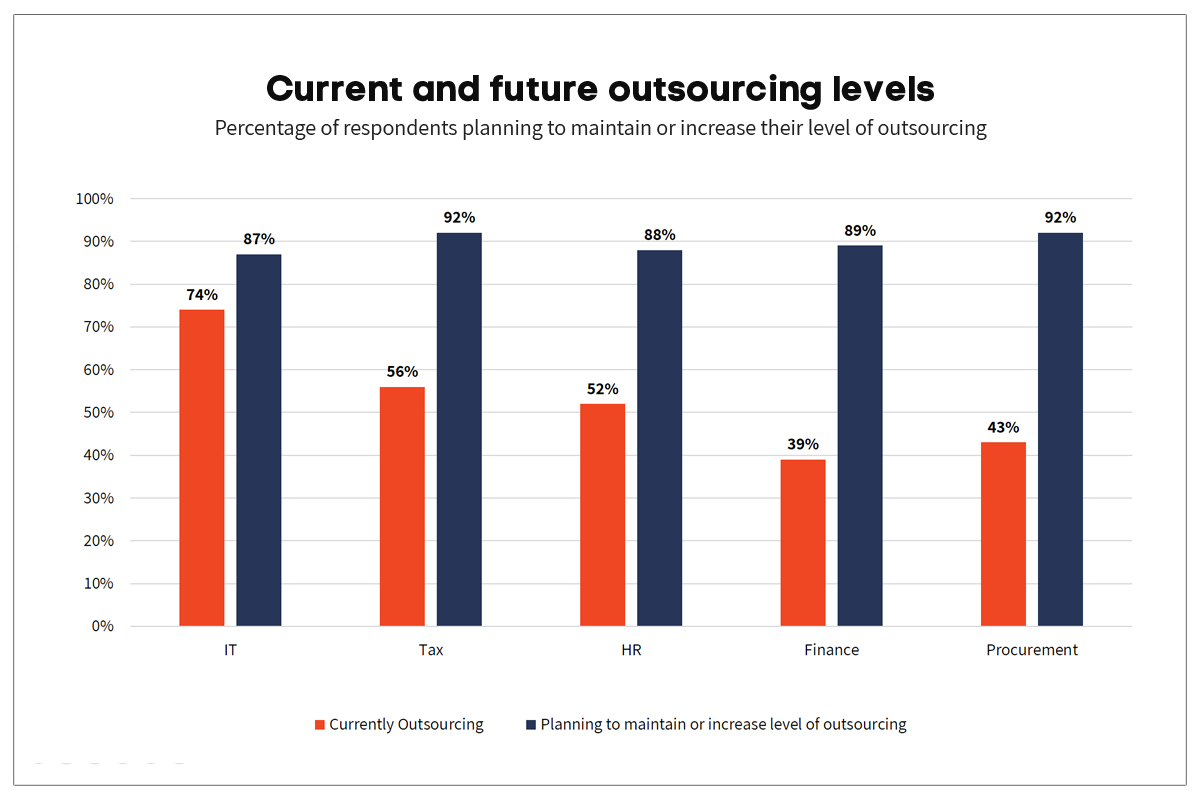 While outsourcing can come in many shapes and forms, such as freelancers and full-time offshore teams, it still speaks to an openness non-traditional forms of hiring. However, things are not always as easy as they sound.
Hiring great talent can be a big challenge. Because the truly outstanding ones can be far and few between, leading many companies to filter through dozens of options before they find the right fit. And this is not only time-consuming, but also involves financial as well as opportunity costs.
3 ways in which freelance developers can cut costs and save time
Freelancers can be an true asset, and a it's a form of employment that holds many benefits over the more traditional work-modes. Before we dive into the specifics of why this is the case, let's look at three general benefits of using freelancers, and how they can help you cut costs and save time.
1. By increasing flexibility
Freelancers can be an true asset, and a it's a form of employment that holds many benefits over the more traditional work-modes. Before we dive into the specifics of why this is the case, let's look at three general benefits of using freelancers, and how they can help you cut costs and save time.
2. By offering more affordable rates
Often, you can hire freelancers a lot quicker than you hire a normal employee. Furthermore, the flexibility in freelancers allow you to hire for specific projects if needed, or scale up in periods of increased workload. Due to this, you can ensure you use your resources efficiently.
3. By providing increased access
Echoing the point above, access to talent is no longer restricted by geography. Still, we live in a world where the talent gap is real. The market is facing a disconnect: the demand is there, but the talent is distributed. But by accessing talent from other markets, many employers can gain talent that would have taken months to locate in a matter of days.
All good? Let's move on.
Hiring developers: What's the deal?
Hiring software and web developers is not typically as straightforward as one would like. First, there's always the issue of cost: developers don't come cheap. And for many companies — especially emerging startups — it might be a challenge to absorb the costs that come with development.
But that aside, assuming you've got enough funds in the bank, there's another hurdle: actually
finding
developers. This might seem easy at first, but frankly — in many parts of the western world — this has proved to be
a real challenge
. Building an app or a website, it turns out, isn't that easy. Especially using traditional employment.
To break it down into hard numbers, here are the averages we're dealing with: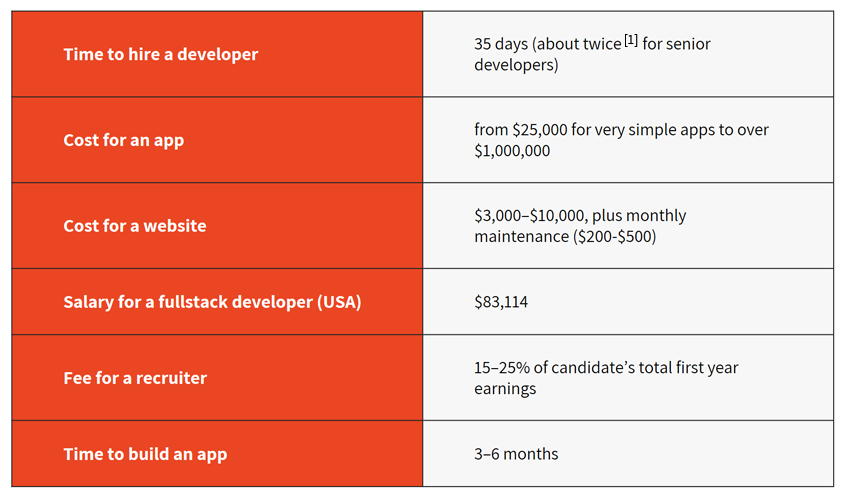 If your goal is to build an app, you're likely dealing with over $100,000 at the very least. If you're a big company or a corporation, paying upwards of $500,000 for an app isn't all too uncommon. In the case of startups, the financial landscape is changing.
The average seed round for startups
last year
was $6,3 million. And while that is a lot higher than it was in 2010, expectations are higher as well. Today, investors often want to see startups generating revenue before putting in any serious money. So chances are that you want to keep costs low before you have a working
minimum viable product
and a proof of concept.
Hiring models
So what are your options? There are a few common ways to tackle hiring for development. Below, we have broken them down in terms of pros and cons.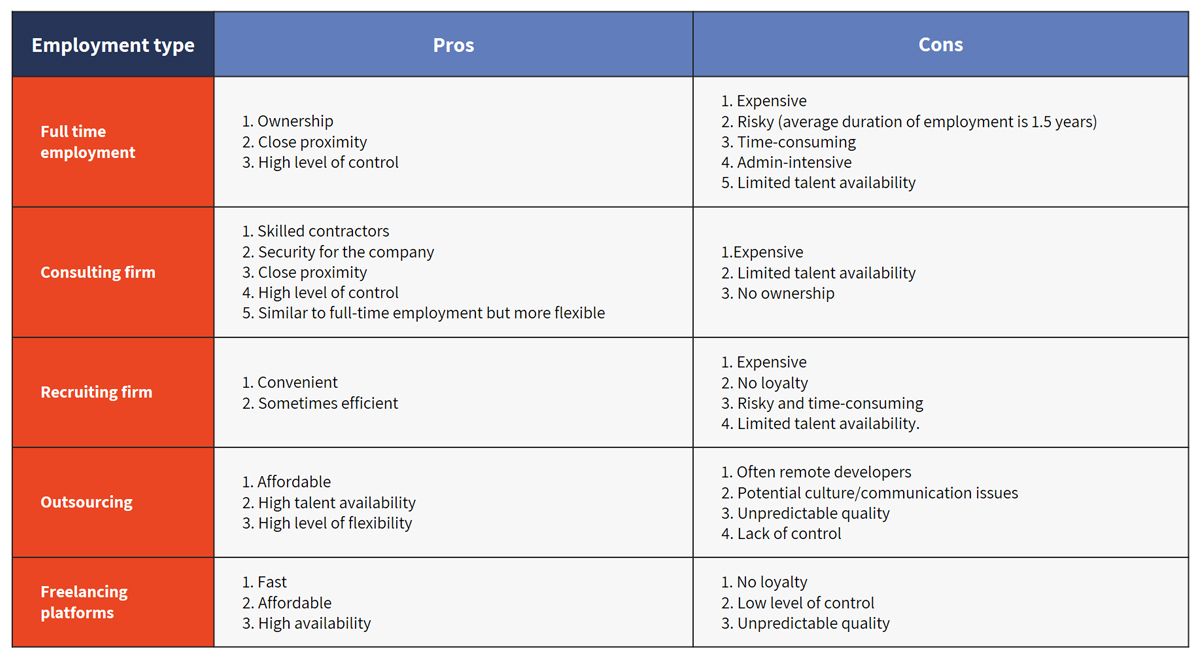 Above there are two major categories: traditional employment and freelancers/contractors. Most people are quite familiar with traditional employment. But freelancers might be a more novel territory for many. To dig deeper into how hiring managers view freelancers, we can have a look at the "
2018 Future Workforce Report
" produced by freelancing platform Upwork.
Key findings from that report include:
Three times as many hiring managers said hiring was more difficult in 2017 than said it was easier.

Top hiring challenges included:

Access to skills (53%)

Cost/budget (45%)

Internal hiring process (33%)

52% of hiring managers listed shortage of talent as top driver for adopting a more flexible workforce model

48% of surveyed companies use freelancers, 43% more than 2017
Main reasons for hiring freelancers include:
More cost-efficient (27%)

Easier to find the talent I need (24%)

Allows flexibility in hiring (19%)

To help support ad hoc projects (17%)

To get started faster (12%)
Also 90% of hiring managers are open to hiring freelancers rather than temporary employees through staffing firms.
The reasons for this include to:
Reduce costs (34%)

Access specialized skills not available locally (32%)

Gain access to a broader pool of talent (30%)

Access higher quality workers (29%)

Reduce hiring times (26%)

Have more control in the vetting process (19%)
Attitudes towards hiring freelance staff are generally good among the surveyed managers.

Hiring concerns
But what about issues or concerns?
A lot of freelancers that are hired to cut costs are remote. This can be in a different city, or more often: in another country. Plenty of companies hire offshore teams or individual freelancers from places like Eastern Europe and Asia in order to cut costs.
To get a better understanding of the potential issues this presents to employers, we can look to Goodfirms'
research
about outsourcing to India. While it doesn't fully correspond to freelancers, many of the issues are the same. From there, we see that the top 5 issues include:
Time zone difference (31%)

Cultural difference (15%)

Language barrier (14%)

Communication issues (13%)

Attitude towards work (10%)
If we separate the traditional employment forms versus freelancers, we can identify these general factors: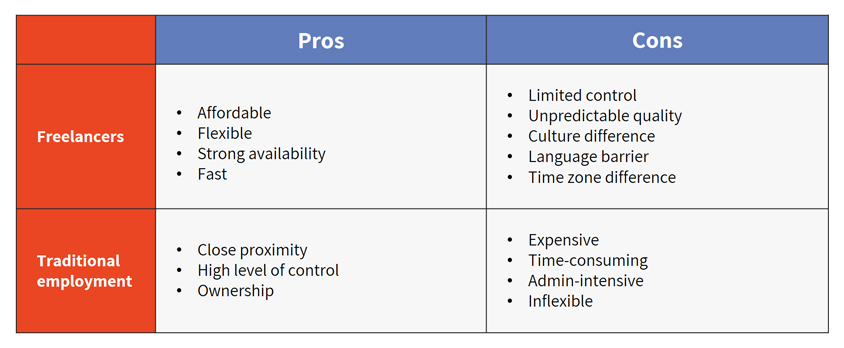 Granted, these are generic pros and cons. But we can see that the major issues with freelancers include the lack of control, cultural differences, and communication issues. On the flipside, the main challenges with traditional employment include costs and flexibility.
A potential solution
Hiring temporary (remote) staff comes with a price. For those who need high levels of control, this might not be a viable option. Instead, the ideal solution would then be something that is:
Flexible

Affordable

Fast

Available
But also helps counter:
Time zone issues

Cultural and communication barriers

Lacking motivation and attitude towards work
Traditional freelancing platforms are typically flexible, fast, and offer high availability. And they might even be able to counter the time zone issues by offering local freelancers. However, there's no mitigating potential cultural and communication barriers as well as lacking motivation. Noticing this issue, a new type of freelancer platform started to appear around a decade ago: The curated freelancer networks. Examples of these include:
These are all freelancer platforms that aim to solve the issues of communication, quality of work, and motivation by vetting their freelancers.
Sometimes they can also solve the time zone-issues. However, this flexibility and quality comes at a price. With rates of upwards to $100 — or sometimes more than $200 — per hour, the costs are high. This can amount to monthly costs that are close to, or even exceed, hiring a full time developer.
Here's a breakdown of all the options above (yes — we're in that list, but we're trying to be as unbiased as possible 🙂 ):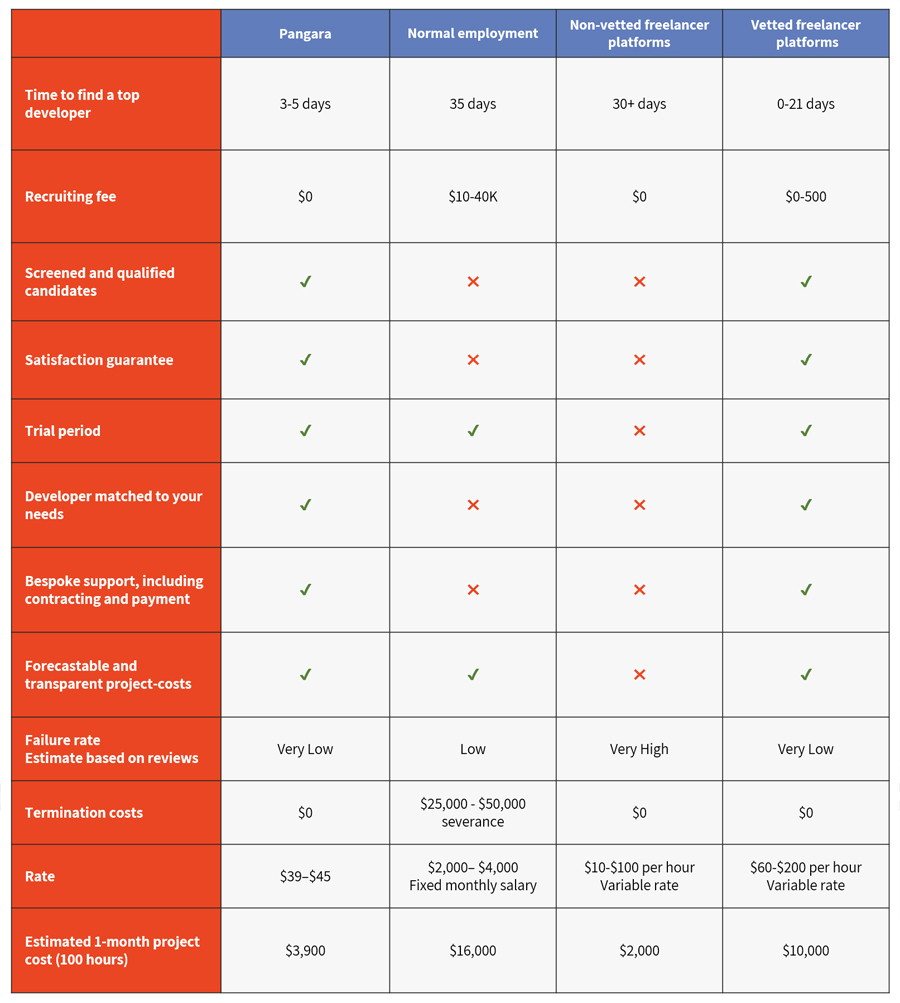 With Pangara, we believe in offering top-quality developers at an affordable rate. Unlike many of our competitors, we mainly gather top talent from emerging markets resulting in lower hourly rates, but the same high-level of expertise.
Savings using freelancer platforms
Let's say you're building a chat-app for Android. The estimated time to build this app is 400 hours. Here's what that would cost you with each option: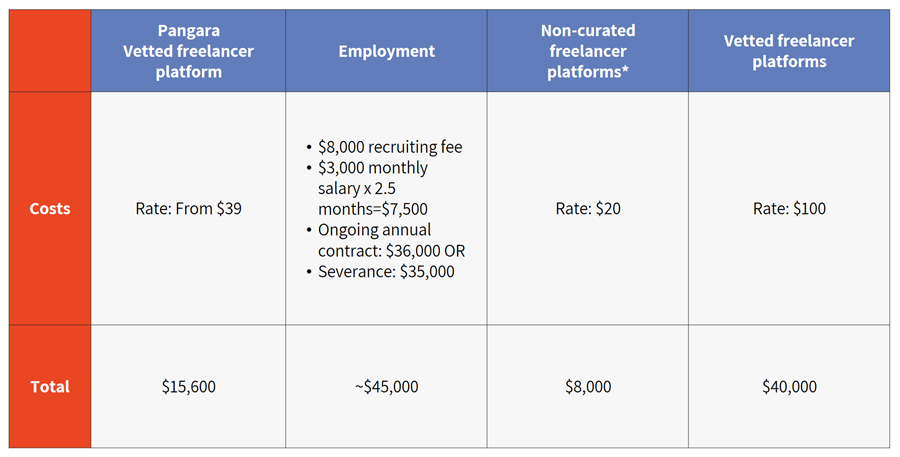 As you can see, Pangara is estimated to be around $7,000
more
expensive than non-curated freelancer platforms. However, we also offer guarantees that these do not. We guarantee that the freelancer is absolute top-quality, and also we guarantee that the freelancer won't disappear mid-project (as can often be the case, to be frank).
If one of our freelancers does encounter an issue and can no longer continue, we will quickly replace that one.
Conclusion
There are pros and cons of each employment form, and there's no universal panacea. However, there are solutions that might be better suited to your business. If you need a full-time employee, hiring full-time staff seems like an obvious choice. If you, on the other hand, are looking to temporarily add staff, you might be looking to freelancers. This should save you time as well as money — especially in the short-term.
If you turn to non-vetted platforms, you might get away with a small price-tag. But, there's always a risk. You, or someone you know, might already have experienced freelancers going AWOL on you. And if you do opt for the most affordable option, know that there are other risks. If you hire very junior developers, there comes a risk with subpar code that could mean higher costs in the long run.
Finally, if you're aiming for curated freelancer platforms you have a few options today. If time-zone is an issue to you, you can go for western freelancers — but they do come at a higher price-tag. Sometimes ultimately higher than full-time employment.
If time-zone is not an issue, however, you might consider Pangara which offers the same type of top-level developers — but at a lower rate. We generally come in under full-time employment, allow you great flexibility, and of course deliver stellar quality.