As globalization spreads, emerging market consumers are demanding higher-quality products and services to better suit their burgeoning middle classes. As described in a
report by Deloitte
, this leads to local knowledge workers also getting increasingly sophisticated and competitive.
With increasing numbers of global organizations entering emerging economies, more and more are recognizing the value of these global players for personal and professional development.
Why emerging markets?
The largest share of global growth is happening in emerging economies. And now, the local talent is leveling up to compete on a global market. For many employers, this opens up new opportunities to access top talent at a more affordable rate.
Consequently, expanding to emerging markets is a top strategic priority to many executives. By expanding into these economies, companies open up a new pool of prospective employees.
And thanks to the next-level sophistication of the emerging talent, many are recognizing their own value in the job market. As such, they are employing a free-agent mindset in order to maximize their career opportunities in whichever way suits them best.  
The global marketplace is essentially levelling the playing field. When access is no longer an issue, everyone is competing on a global scale. As such, talent have to tailor their approach to provide the most compelling offer. Often, this enables western employers to hire top talent flexibly at more affordable costs.
The benefit for employers is clear: Top-level talent for a lower cost. But what about the talent? Again, we can look to the Deloitte report for answers.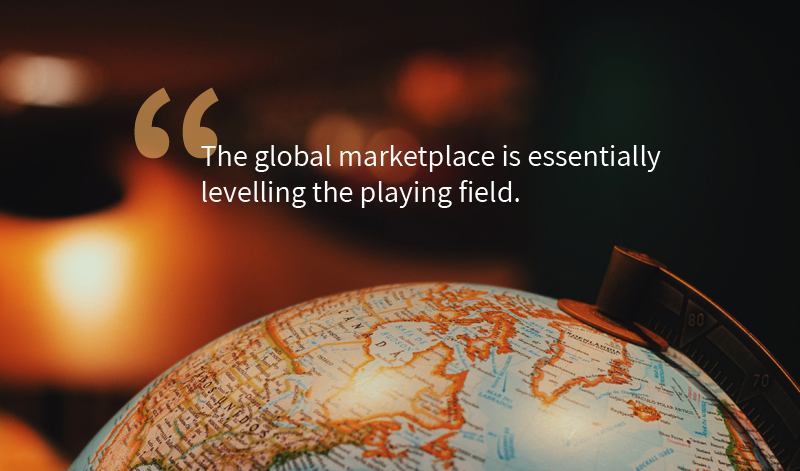 What drives talent?
How do you attract emerging market talent? It depends on where you're sourcing from, it appears. In general, most workers around the globe have similar needs. But once you go granular, you can discover regional differences. For example, talent in the Americas prefer financial incentives the most, while talent in Europe, Middle East, and Africa are mostly driven by job advancement.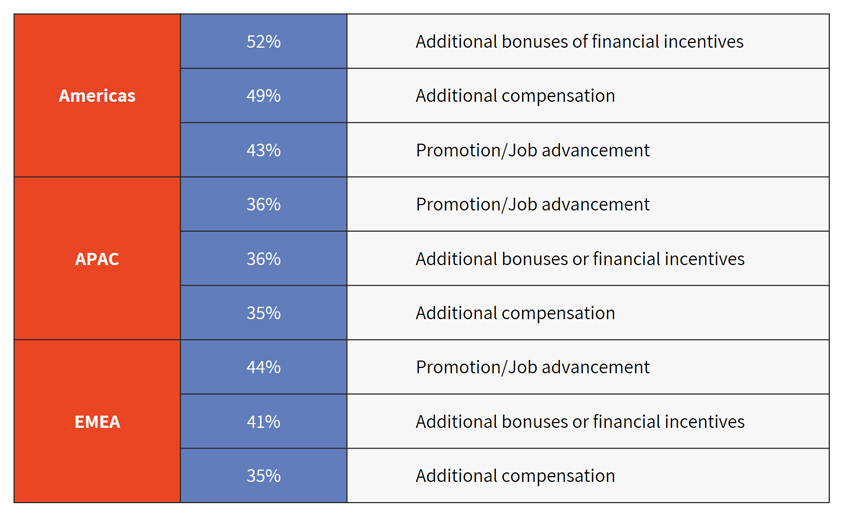 As an employer, these cultural differences are important to keep in mind. Especially if you are working with remote talent. How do you ensure job advancement and the sense of progress in the digital workspace, for example?
Keeping the team motivated is key
.
Your needs will also decide where you're sourcing from. For example, maybe the time-difference to Latin America is too great, but Asia Pacific suits fine. Then maybe you should think Vietnam instead of Brazil. And speaking of which…
Spotlight: Vietnam
For years, India held the throne as the go-to location for IT-talent. But it is gradually getting usurped. In fact, the Indian BPO industry has recently experienced
its biggest drop in 7 years
.  
Instead, Vietnam is emerging as the rising tech-star on the talent-sky. The country has experienced solid growth over the past decade since it joined the World Trade Organization in 2007. Following that, it has strived to make it easier for Western companies to establish themselves in Vietnam, opening new opportunities.
For example, Vietnam's tech industry is thriving. While still quite nascent, Vietnam's IT outsourcing industry is only around a decade old, it has attracted big players. Companies such as Harvey Nash recognized the potential early on, and established themselves here to leverage the talent.
But what makes Vietnam's talent stand out? You can boil it down to 3 major factors.
1. Education
Vietnam is a young country. 50% of the country's population is under 35 years old. And this youthful energy is producing a GDP growth hovering around 7% for the past few years. But of course a young population alone can't bring prosperity. You also need proper training.
And here Vietnam stands out. The country actually
outperforms its neighbours
on education rankings, and does well on a global scale as well. With high test scores, Vietnam ranked itself 48 on the World Bank human capital index. This is the highest rating for any lower middle-income country.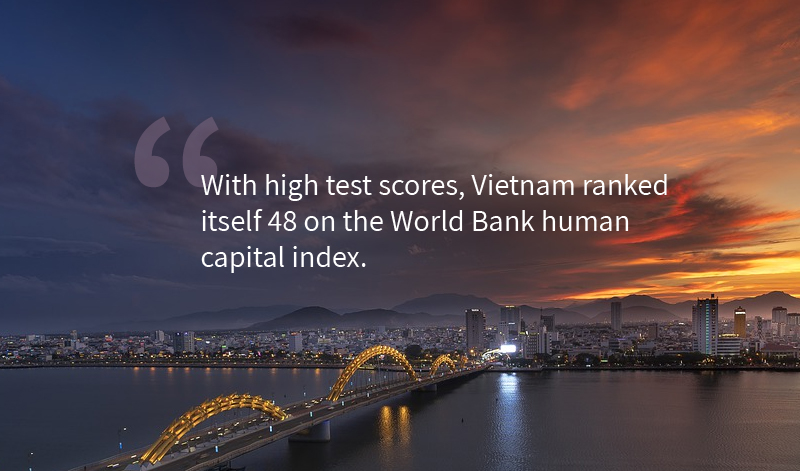 Part of the reason for this is because Vietnam does spend a lot on education. Around 6% of GDP. Again — by global standards — this is high. As a testament to this, Vietnam's top ICT university ranks number 3 globally
according to Hackerrank
.
Another example of this prowess comes from Google engineer Neil Fraser, who works at the company's education department.
He visited Vietnam in 2013
, and noted how Vietnamese children start learning basic programming in second grade.
"
It is an understatement to say that I was impressed with the Vietnamese primary school CS (Computer Science) curriculum
", he writes on his blog.
One day, Fraser walked into a high school CS class without advanced notice. He found they were working on the assignment seen below.
Curious, he took the assignment back to the US. He asked a senior engineer at Google how he'd rank that question's difficulty in a Google interview. The engineer judged it would be in the top third. "
There is no question that half of the students in that grade 11 class could pass the Google interview process.
" Fraser writes.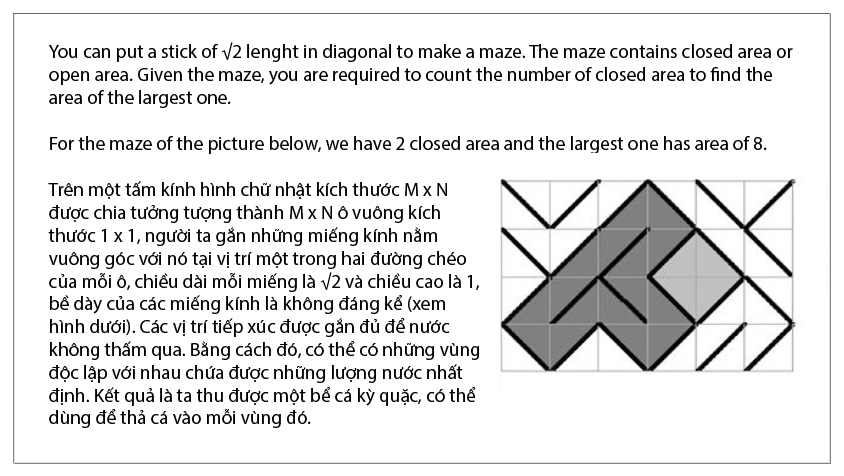 2. Communication skills
Not only are the Vietnamese outstanding in terms of STEM. They also excel in English, coming in on place 41 in the EF English Proficiency Index. Furthermore, Vietnam is 7th in Asia, behind 5 countries using English mostly as an official language (aside from South Korea).
With high levels of English proficiency, especially in the major cities, Vietnam's talent can participate in the global marketplace with ease.  
3. Cultural fit
Finally, there's the case for cultural fit with Western culture. While harder to quantify, it's equally palpable. One consequence of this, is that large Western companies establishing engineering R&D centers in the country, such as Bosch, Apple, Intel, and Harvey Nash.
Additionally, Vietnamese are typically very hard working: They have transformed their country in a generation. It is generally assumed that people work 6 days per week. As such, a Western office working 5 days per week actually presents a very desirable opportunity.
Conclusion
With the talent gap being an increasingly difficult problem in the West, many companies are adopting a global scope. Instead of searching high and low for local talent, many are instead going online for more flexible solutions. And while the talent shortage isn't endemic to the West, it's also far less severe in many other places around the globe.
It's time to embrace digital globalization, and along with that — the increased sophistication of emerging market talent. The playfield is slowly levelling, and talent from all around the globe are now doing what it takes to compete on the global marketplace. Along with that will come new opportunities for mutual growth and more dynamic future workforce.